Hollywood Markets, Madison Heights Grocery Store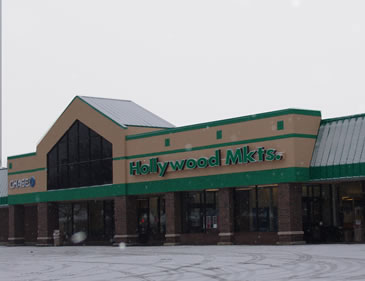 Store Hours and Location
Monday – Saturday: 7am – 9:30pm
Sunday: 7am – 9pm
Phone:
(248) 399-0900
Fax:
(248) 399-0911
Contact Store
Hollywood Markets, a Madison Heights grocery store with additional locations throughout Southeast Michigan, offers old fashioned customer service, a wide selection of high-quality meats, and the freshest produce around — all at reasonable prices. Come visit us today for a hometown shopping experience.
Products and services offered at Madison Heights include:
Full Line Grocery
Gluten Free Products
Complete Selection of National Brands
Large Selection of Specialty Foods
Expanded Natural & Organic Products
Large Beer Selection
Large Selection of Imported/Domestic Wines
Large Selection of Liquor
Fresh Ground Coffees
General Merchandise
Greeting Cards
Health & Beauty Care Products
Magazines
Meat Department
Full Service Meat Counter
Chairman's Reserve Meats
Fresh Fish
Large Variety of Kabobs
Specialty Gourmet Meats
Smoked Meats
Large Selection of Meat Marinades
Garden Fresh Produce
Expanded Organic Selection
Large Vegetarian Section
Large Variety of Fresh Nuts & Candy
Fresh Cut Fruits & Vegetables
Fresh 100% Natural Juices
Bake Shoppe
Fresh Specialty Cakes
Fresh Baked Bread & Rolls
Fresh Pies
Fresh Baked Muffins
Donuts Made Fresh Daily
Custom Cakes
Dairy Products
Complete Selection of National Brands
Expanded Natural & Organic Foods
Featuring Country Fresh Dairy products
Frozen Foods
Complete Selection of National Brands
Expanded Natural & Organic Products
Bagged Ice
Deli
Homemade Original Recipe Salads
Hollywood's Original Recipe Fried Chicken
Rotisserie Chicken
Large Selection of Party Trays
Party Subs
Specialty Sandwiches
Store Made Fresh Peanut Butter
Homemade Soups Daily
Prepared Meals to Go
Fresh Cut Flowers
Large Variety of Bouquets
Roses
Seasonal Potted Indoor & Outdoor Plants
Customer Service
Instant Lottery Tickets
Lotto
ATM Machine
Stamps
Motorized Shopping Cart
Carry Out Service
WIC Approved
Coinstar Machine
Chase Bank
Self Service Check Out
Printable Shopping List
Download this handy printable grocery store shopping list for your next trip to Hollywood Markets in Madison Heights, Michigan. It contains aisle assignments for common items, space to add your own list and store manager information!
Download Now
Getting to Hollywood Markets, Madison Heights
Send an online inquiry to Hollywood Markets, Madison Heights
Contact Hollywood Markets, Madison Heights